Kristie owns Party Vibes, a new party planning business. She's had some success with friends' parties, but now she needs more customers. She decided to get a website to reach more people. However, the website designer asks her to write her own content, which makes her frustrated.
Website Copy Is Skimmed, Not Read
Here's the problem: Kristie doesn't know how to write persuasive content for her website. She can explain her services, but it sounds dull and formal when written down. Plus, people don't read every word on websites, and she doesn't know how to make her content easy to skim.
What can she do to make her writing stand out? She wants readers to think, 'This is the person who can throw an unforgettable party for my friends! I need to book her Now.'
Did you know that, on a typical web page, users only read about 28% of
the words during their visit, and sometimes even less, around 20%?
Break Grammar Rules
Start sentences with "And."
And use one-word sentences for impact.
See?
You can also create new words if they make sense and help express your idea clearly.
Don't worry, you won't get in trouble with your 9th-grade English teacher. It's not an essay; it's web content designed to grab attention.
Simple and Readable Sections
People aren't reading your website like a captivating book. They're not spending a cozy evening exploring your Services page with a cup of tea. Reading is still important, but your website isn't a bestseller.
They're on a mission: they're searching for something specific, and they want to find it easily.
People are often busy and distracted. To make your website user-friendly, use clear headings and bold words. If your content is helpful or interesting, people might read it, but avoid long paragraphs.
Use white space.
Keep your paragraphs brief.
Mix up your sentence lengths.
Use short and catchy headlines.
Add subheadings.
Use bullet points for lists.
Highlight important words in bold.
Use Conversational Words
Plain language can be understood the first time your audience reads or hears it so focus on fewer complex words for better readability.
Use Powerful Words, Not Big Complicated Ones
Here's copy directly from a website for an airport shuttle service.
"We cultivate positive relations and experiences with our clients to give them a personalized, comfortable experience."
Boring.
Let's try again.
"We'll deal with traffic and parking. You enjoy the ride."
Better.
Reach New Customers With Scannable Web Copy
Kristie's web design doesn't include copywriting. So she had to do it on her own. But you don't. We love taking blah words and transforming them into enticing web copy that brings in new customers.
Want a free proposal for a website chock full of goodies like copywriting? Reach out to us HERE.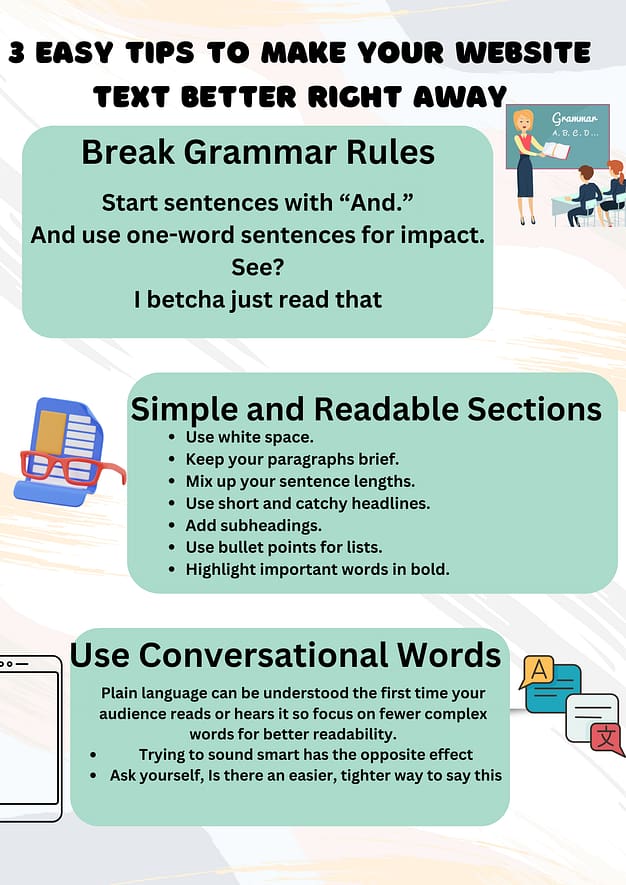 Get Started
Are you ready for a fresh, modern website? Reach out at info@lynkedupmarketing.com, Send us a message on our website, or Book Your Free 20-minute Discovery Call.